Nov 21, 2017 /
ISF Celebrates 5th Annual OSAC Appreciation Dinner
The International Security Foundation's 5th annual OSAC Appreciation Dinner on November 15, 2017 was all about traditions. The event, held at the Ritz-Carlton in Washington, D.C., was the largest in the ISF's six-year history, as noted by Rich Davis, Chief Security Officer of United Airlines and Event Chair.
Over 600 people attended from across the security industry and U.S. Department of State, and the event raised more than $600,000 for the nonprofit ISF. The proceeds from the dinner support OSAC's work across the globe for vital information sharing programs and events with OSAC constituents.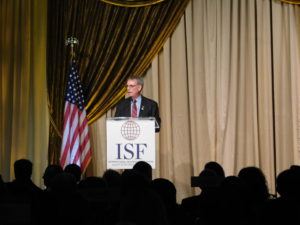 Rich (pictured, left) began the evening by noting the milestone of the fifth ISF dinner, speaking of the tradition of the dinner being held during OSAC's Annual Briefing and of how the event has grown. In 2013, the first dinner, less than 200 attended, and the event lost $13,000. With his dry wit and easy-going manner, Rich teased the crowd that he had an envelope with a name of someone in the audience. That person would be asked to open the evening with a song. After much nervous laughter, Rich pulled the name Michael Ryan.
In a tradition he has enjoyed at venues across the country, Master Gunnery Sergeant Ryan, U.S. Marine Corp retired and former soloist of The United States Marine Band, led the crowd in a stirring rendition of The Star-Spangled Banner.
An equally important milestone showcased at the dinner is the 20th anniversary of the State Department's Research and Information Support Center (RISC), which was created in July 1997 to work strategically and collaboratively to address the private sector's security needs. To applause from the grateful crowd, RISC officers, past and present, stood while Rich noted, "You make our jobs a lot easier. You keep us updated and informed so that we can keep our people safe. Be proud of your work." OSAC's talented RISC staff was a finalist of the 2017 U.S. Outstanding Security Performance Awards in the category of Outstanding Security Consultant.
2017 OSAC and ISF Award Winners
A highlight of each ISF dinner is the annual OSAC Awards, the ISF's tradition of recognizing those U.S. Department of State employees and groups and private-sector individuals who have made significant contributions to enhancing the ability of American organizations to protect their personnel, assets, information and intellectual property of business operations overseas.
2017 Distinguished Achievement Award: Rebecca Spingarn, OSAC Program Analyst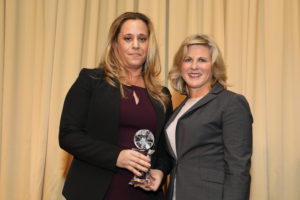 As liaison between the OSAC Council, RISC staff and technical advisors, Rebecca consistently provides exceptional leadership, momentum, collaboration, initiative and enthusiasm. Skilled in many areas, her drive and digital acumen have helped to shape the initiatives of OSAC's Outreach and Engagement Committee, including the 2017 survey on OSAC's digital presence. Rebecca, pictured left, with presenter and ISF Board member Kelly Johnstone.
2017 Common Interest Council Achievement Award: International Development Working Group (IDWG)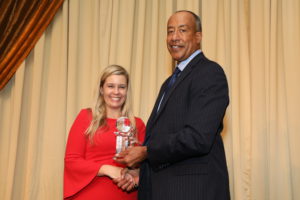 Led by Chair Valerie Schaeblin (Bill and Melinda Gates Foundation), IDWG is receiving the award in recognition of its proactive efforts to increase engagement of the international development community. The IDWG has focused on enhancing communications between private-sector companies operating in foreign countries. These efforts have resulted in more effective sharing of best practices and created a more effective network to come together in times of crisis. This has strengthened partnerships and has elevated the discourse of global security professionals. The IDWG is an exemplar of information sharing in a public-private partnership. PIctured, Valerie, who accepted on behalf of the IDWG, with presenter, Michael Mason, Verizon. The IDWG is pictured below.
2017 Country Council Achievement Award: Kyiv Country Council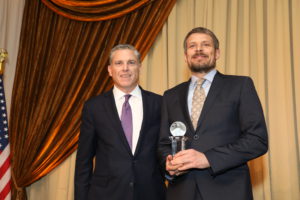 The Kyiv, Ukraine Country Council demonstrates continued excellence in providing support and information to its 100 members. Beginning in 2016, it added to a robust meeting schedule and digital communications practice, a series of workshops aimed at smaller groups. Topics included active shooter response, anti-counterfeiting, trademark protection on background investigations. Additional member outreach includes social gatherings, newsletters and an annual recognition program. Accepting the award was OSAC private sector co-chair Gennadiy Reznichenko of Honeywell (pictured, right) with presenter Scott Sheafe, Senior Vice President and Chief Security Officer, PepsiCo, Inc., and ISF Board member.
The 2017 Technical Advisor Award: Elena Kim-Mitchell, Office of the Director of National Intelligence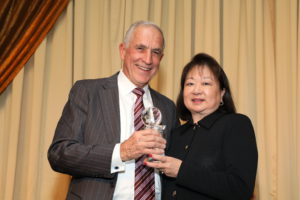 The first-ever, two-time ISF award winner, Elena Kim-Mitchell goes well beyond the expected to engage in outreach and information sharing as a member of the Outreach and Engagement Committee. Collaborative and proactive, she offers great perspective to discussions across all topics. Elena, pictured with presenter Robert Pritchard, S&P Global.
New Country Council Awards
At the dinner, the ISF began a new tradition of recognizing those Country Councils that demonstrate excellence in mitigating risk and upholding the public-private partnership abroad. Those honored in 2017 include:
Africa:
Johannesburg-Pretoria Country Council
Patrick Moore, U.S. Embassy Pretoria
Joshua Bauer, U.S. Consulate General Johannesburg
Wayne Hendricks, Macquarie Securities
Americas:
Bogota Country Council
Dean Shear, U.S. Embassy Bogota
Ricardo Tiana Soto, Consejo de Empresas Americanas (CEA)
East Asia and the Pacific:
Manila Country Council
Michael C. Ranger, U.S. Embassy Manila
Steve Cutler, American Chamber of Commerce
Europe:
The Hague Country Council
Vanessa Freeman, U.S. Embassy The Hague
Peter Zmiyarch, Organization for the Prohibition of Chemical Weapons (OPCW)
Middle East:
Doha Country Council
Frank Pasqualino, U.S. Embassy Doha
Rula Manasra, ConocoPhillips Company
South Central Asia:
Bangalore Country Council
Henry Laxa, U.S. Consulate General Chennai
Ramesh Kumar, Texas Instruments
George P. Shultz Award for Excellence to OSAC: Jim Snyder, ISF Immediate Past President
To honor OSAC's founder, Secretary of State George P. Shultz, the ISF began the tradition of rewarding its most prestigious award in 2015. Fittingly, the first recipient in 2015 was Secretary Shultz for his vision in creating in 1985 the public-private partnership that is OSAC. The award recognizes the remarkable achievements of an individual who enhances the daily safety of OSAC constituents confronting terrorism, crime, natural disasters and other challenges.
For the 2017 dinner, ISF honored one of its own, Jim Snyder, ISF founder and first Executive Director – and until midnight on November 15, 2017, the ISF President. (Rich Davis assumed the Presidency on November 16.) In her remarks, Peggy O'Neill, ISF Executive Director, spoke about Jim's driving passion for OSAC and ISF and of his willingness to take the leap – and inspire others to leap with him – to try what has not been done. She used the example of the first ISF OSAC Appreciation Dinner. The timing was not ideal – to host the dinner during the 2013 Annual Briefing, the ISF skeleton staff would have just eight weeks to pull it together – but the moment was right.
Michael Evanoff, Assistant Secretary, Bureau of Diplomatic Security, U.S. Department of State, celebrated Jim's ISF vision in his opening remarks at the dinner. "I was in OSAC in 2011 when Jim came up with the idea for ISF. He asked us how we were supporting people in the field and came up with a better idea I am exceptionally proud of ISF and what Jim did."
In keeping with Jim's enthusiasm for and expertise in implementing bold, Jim is the founder and Executive Director of the new Domestic Security Partnership (DSP), which was inspired by ISF and founded to provide private-sector support to the FBI and the Department of Homeland Security.
Read details of Jim's impressive career.
Jim's heartfelt remarks embodied his devotion to the work of ISF and OSAC and showed how touched he was to be honored by his peers. He also took the opportunity to bring another aspect of his life – his Texan pride – by giving Houston Astros World Champion baseball hats to equally passionate Red Sox fan Peggy O'Neill and White Sox fan Rich Davis.
Congratulations, Jim, and all the OSAC and ISF Award winners!
Keynote Speaker, James Clapper
Director of National Intelligence, 2010-2017
Director Clapper's presence and remarks added immensely to the celebratory feel of the milestone dinner. In addition to Director Clapper, honored guests at the dinner included The Honorable William Webster, Assistant Secretary Michael Evanoff and FBI Executive Assistant Director Joshua Skule.
Director Clapper delighted the audience with the story of how he decided to be an intelligence officer. He and his sister would spend summers with their grandparents. Director Clapper recalled the summer of 1953 in Philadelphia when he was 12. That summer, he enjoyed free rein of his grandparents' TV set on Friday nights. He especially enjoyed watching Schmidt's Beer Mystery Hour. "After the show was over, I turned the channel between four and five and heard someone talking," he told the crowd. "There was no picture, and I soon realized that it was the Philadelphia police scanner."
To be able to listen without holding the knob, he got toothpicks from the kitchen and jammed them behind the knob, effectively "hacking" his grandparents' set. The next night, he got a city map and plotted where the cars were being dispatched. On index cards, he wrote down police codes and deciphered the department's personal call system. "After a couple of weeks, I figured out police district boundaries," he said. When his parents visited, he shared his detailed research, recalling how his father, a career Army intelligence officer, exclaimed, "My God! I've raised my replacement!"
Watch Director Clapper tell the story of the beginnings of his intelligence career.
Director Clapper spoke about how he first learned of the work that OSAC does in Egypt, seeing firsthand how OSAC served as a crucial extension of the Embassy's eyes and ears. His words for the ISF were equally complementary: "ISF is a stellar example of public-private relationships. These partnerships are vital to safety and to securing our country and its people." After speaking broadly about current terrorist threats, he ended his remarks with a heartfelt thank you to the audience. "Thanks for your service, particularly the sponsors [of the ISF dinner] without whom this would not be possible. You are the unsung heroes. The public has no idea what you do to keep the country safe."
Thank you, Director Clapper, for your service and for adding immensely to the evening's festivities. Thank you to all who attended the ISF 5th Annual OSAC Appreciation Dinner.
Enjoy the gallery of photos.
We are deeply grateful to our 2017 sponsors, for your generous support.
Gold Sponsors
Bloomberg LP
SOS Security LLC/AS Solutions
Silver Sponsors
The Boeing Company
Colgate-Palmolive Company
Hillard Heintze
Mars, Incorporated
National Basketball Association
PepsiCo, Inc.
Pinkerton Consulting & Investigations, Inc.
S&P Global
Target Corporation
United Airlines, Inc.
Verizon
VISA, Inc.
Walmart
Bronze Sponsors
Accenture
Airlines for America
Allegiant Air
American Airlines
Atlas Air Worldwide
The Coca-Cola Company
Cummins Inc.
Discovery Communications
The Walt Disney Company
G4S Secure Solutions (USA), Inc.
Kroll
Marriott International, Inc.
Northrup Grumman Corporation
On Call International LLC
Raytheon Company
Sempra Energy
Patron Sponsors
AEG Worldwide
Analogic Corporation
ASIS International
Caterpillar Inc.
CME Group
Hilton
Horizon Pharma
CNS/IATA
International Security Management Association (ISMA)
JetBlue
KLM Security Services
Land O'Lakes, Inc.
McDonald's Corporation
Metro One Loss Prevention Services Group
Mutual of America
Oracle Global Physical Security
PayPal, Inc.
Principal
SC Johnson
Security Industry Association
Security Management Resources
Tiffany & Co.
Premium Tickets
Air Line Pilots Association
BHP
Concilium, Inc.
Ernst & Young
Harrold Family Foundation
Johnson & Johnson
KPMG LLP
Microsoft Global Security
Peggy F. O'Neill
The Proctor & Gamble Company
RSL Management Corporation
Southwest Airlines