Nov 21, 2017 /
Jim Snyder Receives 2017 George P. Shultz Award for Excellence to OSAC
At the ISF 5th Annual OSAC Appreciation Dinner, Jim Snyder, security industry leader and founder of the International Security Foundation (ISF), received the prestigious George P. Shultz Award for Excellence to OSAC.
Presented during the largest-ever ISF annual dinner to celebrate the achievements of the U.S. Department of State's Overseas Security Advisory Council (OSAC), the award recognizes Jim's long and distinguished career and volunteer service to OSAC and his country. The event was held on November 15, 2017, at the Ritz-Carlton in Washington, D.C. during OSAC's 32nd Annual Briefing—a fitting venue for an honoree who just completed his terms as Chair of the OSAC Senior Advisory Committee, Member of the OSAC Executive Working Group and outgoing ISF President. Jim's OSAC service also includes his tenure as Co-Chair of OSAC from 2013 to 2015.
Early on during his service to OSAC, Jim saw the need for the creation of the ISF. Prior to the ISF, OSAC's Regional Security Officers stationed across the globe were spending their own money to fund vital security information sharing events and trainings for OSAC constituents (corporations, organizations, non-profits, academia and individuals). The Federal Advisory Committee Act precludes government funding for these events.
Jim, a lawyer, worked with his OSAC colleagues and Department of State lawyers to craft a better solution. In 2011, the ISF was established, and Jim became its first Executive Director.
Pictured above with Jim Clapper, the 2017 dinner's Keynote Speaker and Director of National Intelligence from 2010-2017 and Jim's wife Liz.
"I can't think of anyone else that deserves to be the recipient of the George P. Schultz Award for Excellence to OSAC then Jim Snyder," notes ISF President Rich Davis, chief security officer for United Airlines. "Jim was appointed to the OSAC Security Council in 2008, and from day one, he has displayed an unprecedented passion for ensuring that safeguarding American's safety and security while traveling abroad remained in our minds at all times and in the work that we all do on a daily basis. My congratulations go to Jim for receiving this prestigious award."
In presenting the award, ISF Executive Director Peggy O'Neill lauded his visionary leadership and legendary exuberance: "When we first conceived of this award, we envisioned recognizing an individual who, over a significant period, made a great impact on OSAC. Someone who significantly advanced OSAC's mission and made it better because of his/her involvement. That certainly describes Jim."
Jim's passion for OSAC and his belief in how important OSAC is to American organizations operating abroad drove a lot of the changes that happen during his OSAC. Under his leadership, OSAC launched new regional councils and reinvigorated working groups.
"I've worked closely with Jim and I believe he is a true visionary," Peggy explains. "He thinks and plans possibilities for the future with imagination and wisdom. He pushes us (both OSAC and the ISF) to seize moments because his instincts tell him the time is right, even when we would have preferred more planning time."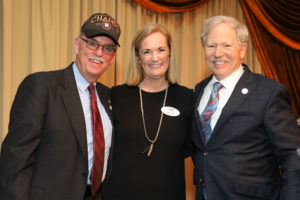 She shared the example of the first ISF dinner, which he convinced Peggy and the two-person, part-time ISF staff to pull off in just eight weeks. "Jim was right. That was the moment, the opportunity to launch, and we did thanks to Jim. Now look where we are."
The 2017 dinner included 600 guests, raised over $600,000 to support OSAC events and programming from numerous sponsors and ticketholders and included James Clapper, Director of National Intelligence from 2010 to 2017, as the keynote speaker. The first ISF dinner included 150 guests and lost $13,000. Today, proceeds from the ISF dinner and other donations to ISF fund numerous OSAC Country Councils and all OSAC Regional Councils and Sector-Specific Working Groups.
At the podium, Jim presented Rich and Peggy with Houston Astros Championship hats, Jim's hometown team.
Jim continues to work with private-sector colleagues and public entities to create transformative partnerships to better serve the safety and security of all Americans. Last year, he collaborated with OSAC's private sector and officials at the FBI and the Department of Homeland Security to create a new non-profit, the Domestic Security Partnership (DSP), OSAC's domestic counterpart to the ISF. Jim serves as Executive Director for the DSP.
Congratulations, Jim, on this well-deserved honor for your visionary service to ISF, OSAC and all the U.S. citizens working around the globe.
Jim Snyder's Professional and Philanthropic Achievements
Jim's distinguished professional career in the service industry includes numerous incidents where his leadership and service took center stage. As CSO for ConocoPhillips, he organized a 2 a.m. airlift on the morning of February 23, 2011, to rescue his company's employees, OSAC constituents, and the staff of the British Embassy from Tripoli when the city had become engulfed by fighting between insurgents and the regime of Muamar Kaddafi. Later he played a pivotal role in helping US Navy SEALs board and capture the "Morning Glory," tanker, a North Korean flagged vessel under the command of armed rebels transporting 243,000 barrels of crude oil stolen from his company's facilities at Es Sider, Libya. In 2013, while the Algerian military was still securing the neighboring In Amenas gas processing plant following a terrorist attack that left 40 expatriate workers dead, Jim arrived at his company's operations in the Sahara Desert to personally oversee security arrangements. After the situation there stabilized, he immediately traveled north to brief the OSAC Tripoli Country Council.
His commitment to OSAC, however, was not limited to crisis situations. During his international travels as Apple's head of security, he regularly met with OSAC Country Councils and candidly discussed the security challenges encountered during the roll-out of Apple stores domestically and overseas, the difficulty of maintaining the secrecy of new Apple products under development, and the unexpected issues impacting effective security planning for the hugely popular MacWorld expositions in major cities around the world (which, post 9/11/01, was an indispensable precondition for participation by his boss, Steve Jobs).
Following his appointment by Secretary Condoleezza Rice to the Overseas Security Advisory Council in 2008, Jim was disheartened to learn that deficiencies in the Federal Advisory Committee Act and other federal laws and regulations had the unintended effect of preventing OSAC from reaching its full potential as a dynamic, relevant public/private partnership. With legal skills that had, for the most part, lain dormant since representing the U.S. Secret Service in legal proceedings against would be presidential assassin John Hinckley, Jim undertook to find a solution. On April 18, 2011, he founded the International Security Foundation as an educational non-profit with the mission of "fostering cooperation and collaboration among private and public sector individuals and organizations in the development of informed and effective responses to terroristic threats and incidents, social and/or political upheavals, natural disasters, criminality, cyber risks and other threats to the safety and security of personnel and the operations of US organizations in foreign countries."
Over the course of his career, Jim has served in a variety of non-paid capacities that were ancillary to his role as corporate chief security officer, including Substantive Point of Contact on the President's National Infrastructure Advisory Council under President George W. Bush, chairman of the American Petroleum Institute's Security Committee, member of the US Department of Homeland Security Critical Infrastructure Oil and Gas Sector Coordinating Council, and so on. However, none of these positions yielded a greater beneficial impact on the security of Americans and American organizations overseas than what ensued following his appointment by Secretary Hillary Clinton to be OSAC Co-Chair in January of 2013.
Jim leveraged the support of the ISF throughout his tenure as OSAC Co-Chair with impressive results. The African Regional Council and the Middle East and North Africa Regional Council were launched, the Pan-Asia and Latin American Regional Councils were reinvigorated and planning for the European Regional Council was begun, which launched in 2017. Dozens of new Country Councils, in places like Atyrau, Kazakhstan, were established and received financial support from the ISF to keep them viable. OSAC Common Interest Councils produced invaluable work products, such as the Hotel Security Working Group. OSAC staged a torrent of topical symposiums, including conferences on Mexico insecurity at the Baker Institute, the Foreign Corrupt Practices Act at the Marshall Center, and a host of other meetings on important issues that not only were world-class, but, with the financial support of the ISF, were presented at no charge.
Even after he transitioned from his role as OSAC Co-Chair, Jim continued to push OSAC forward by harnessing the experience and insights of former Council members to recast the moribund Alumni Committee into the highly energized, mission-focused "OSAC Senior Advisory Committee." Jim actively participated on the Council for ten years and, during that time, never missed a meeting.
Over the course of his career, Jim has been the recipient of various awards that run the gamut from Rotary International's Service to Humanity Award for professional and personal achievements exemplifying service over self, to the ASIS Presidential Award of Merit for his stance against the introduction of firearms into the workplace, to U.S. Department of Treasury's Special Achievement Award in recognition of his successful prosecution of 26 defendants who conspired to defraud the Department of the Navy, to recognition by Security Magazine as a Most Influential Security Leader, to even the conferral of a varsity athletic letter for intercollegiate sports competition by the University of Tennessee.